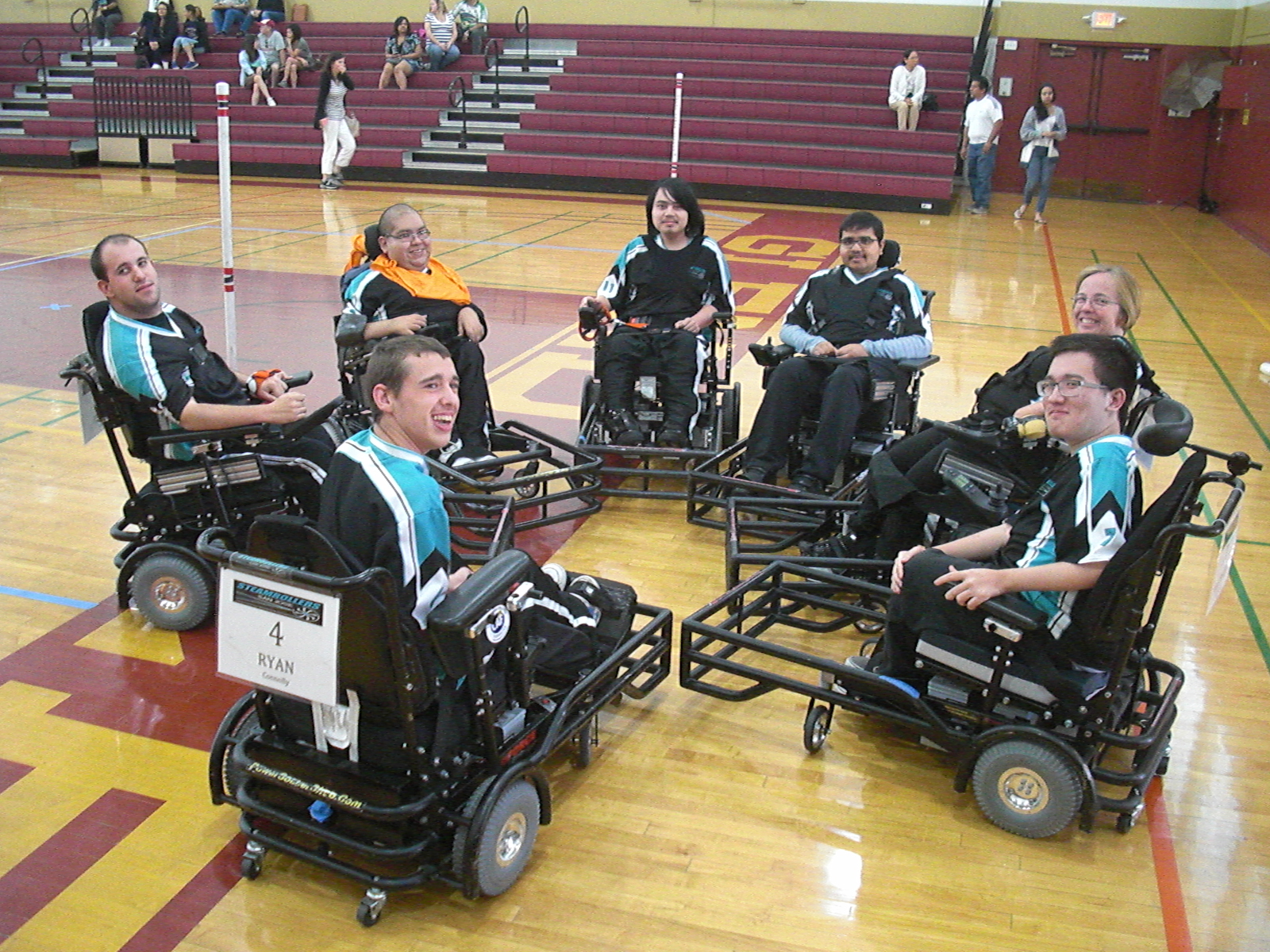 The San Jose Steamrollers traveled to Glendale, California last weekend for a weekend of Power Soccer matches against teams from Arizona, Santa Barbara, and two teams from Los Angeles.
The Steamrollers started strong with three goals by Matthew Arensdorf and the win in the Saturday afternoon match against the Arizona Heat Elite. The Arizona team is always dangerously competitive and the game was hotly contested with the Steamrollers edging out the Heat Elite 3-0.
The second match of the weekend pitted the Steamrollers against the Santa Barbara Rollin Rebels. The Rebels have picked up some new, talented athletes, but the swarming offense and strong defense of the Steamrollers were too much for the Rebels. Every Steamroller contributed with either an assist, or a goal in the 8-0 victory over the Rebels, which included a precise spin kick goal from the top of the goal box by Chris Faria.
The final game of Saturday evening had the Steamrollers facing off against the always tough, Champions Conference rivals, the SoCal Vaqueros. The Vaqueros scored early, but the Steamrollers equalized minutes later, and that was the prelude for this see-saw of a match. The lead changed hands once more in the game, as both teams bore down in an attempt to break their opponent's spirit. In the end, the deciding goal was flicked by the Steamroller defenders on a well executed Vaqueros' corner kick in the closing seconds of the game, giving the Vaqs the 4-3 victory.
The Steamrollers came roaring back on Sunday afternoon with each team member chalking up a goal, or an assist in the 8-0 win over the tough Glendale Rough Riders.
Thanks to our gracious hosts the SoCal Vaqueros, and the Glendale Rough Riders for a fantastic and well organized tournament. Congratulations to Matthew Arensdorf, Ryan Connolly, Kenny Tran, Jenny Mitchell, Chris Faria, Sid Karnala, and Jairo Solorio for the great team play that led to three Steamroller wins over the weekend.